With over 20 years of experience, ProLine Dock & Door Systems has the expertise to help you select the perfect commercial or industrial overhead door. From assembly and installation to service and maintenance, we're here for you. Our team is on call 24/7, so contact us today. We'd love to hear about your next project!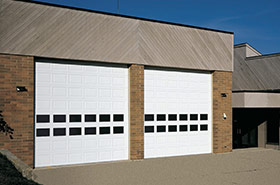 Sectional Doors
Whether your concern is installation timing, product durability or increased energy savings, ProLine Dock & Door Systems has the sectional door option that's right for you. We offer replacement options for quick retrofits, impact resistant options for increased durability and insulated options for improved energy savings.
Rolling Overhead Doors
When security and diversity are top concerns, rolling doors should be the first choice on your list. Available in aluminum, steel and stainless steel, rolling doors come in insulated, uninsulated and fire-rated options. Let ProLine Dock & Door Systems find the rolling door that's perfect for you.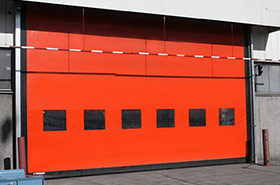 High Speed Doors
For a rapid and quiet seal, go with a high-speed door from ProLine Dock & Door Systems. High-speed doors are the ideal choice for moving product and personnel quickly, while reducing levels of door operation noise. High-speed doors come in varying degrees of pressure resistance and offer available safety breakaway and automatic self-reset options.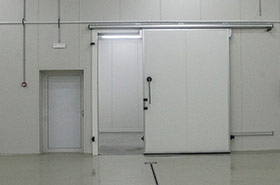 Horizontal Sliding Doors
Horizontal sliding doors are the way to go if you are looking for a simple, low-maintenance entry closure. This simple design is highly regarded for its easy upkeep and low cost of maintenance. Let ProLine Dock & Door Systems find the right horizontal sliding door option for you.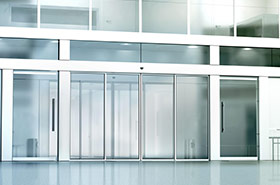 Automatic Doors
Welcome and guide visitors while maintaining a steady indoor climate with automatic doors. ProLine Dock & Door Systems offers sliding, swing and revolving automatic door options. We'll find an automatic door that provides the convenient accessibility and reliable security you desire.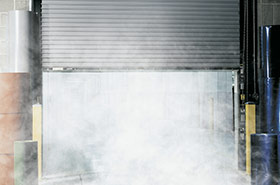 Fire Doors/Fire Shutters
Let ProLine Dock & Door Systems help you protect what matters most. We offer trusted fire door and shutter options to suit a wide variety of applications. From coiling smoke doors to rolling fire shutters, we have hands-on experience with the latest technology and can help you with your fire protection needs.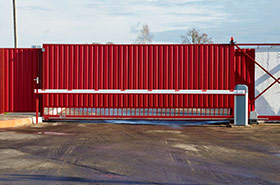 Sliding Gates
ProLine Dock & Door Systems can help you secure your location with a sliding gate. We have ornamental, cantilever and heavy-duty options to choose from and can help you select the perfect option—whether the application is residential, commercial or industrial.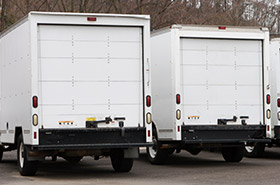 Truck Doors
We offer durable truck door options in a variety of materials and finishes. Whatever your requirements are—from manual push up to drive chain to electric roll up—ProLine Dock & Door Systems will work with you on the selection, assembly, installation and maintenance of all your truck door needs.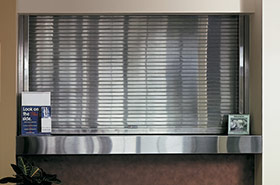 Counter Shutters
ProLine Dock & Door Systems offers a variety of attractive shutter options to help you secure smaller openings and counter space. Similar to a rolling overhead door, counter shutters offer the same security and diversity in a smaller package. With options available in aluminum, wood and steel, we have the right counter shutter to fit your needs.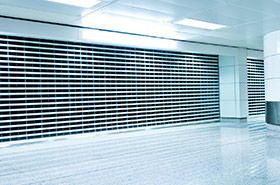 Vertical and Horizontal Grilles
Vertical and horizontal grilles provide attractive and functional security without limiting visual access to your space. ProLine Dock & Door Systems offers aluminum, galvanized and stainless steel grille options in a variety of patterns and colors. No matter the location or environment, we have grille solutions that will work well for you.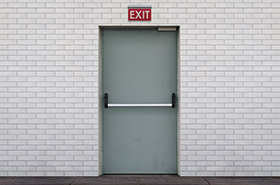 Steel/Glass Commercial Entry Doors and Hardware
Let ProLine Dock & Door Systems help you select your next commercial entry door. Choose a standard or custom size and we'll assemble and install it for you. We work with all major brands and would love to assist you with the selection, replacement and maintenance of your entry door.
HOW CAN WE HELP YOU?
Contact Us to Learn More About How We Can Help You With Your Industrial Dock & Door Needs
© Copyright 2019 Pro Line Dock & Door Systems. All Rights Reserved.